White elephant fabric exchanges never disappoint. Our February meeting was filled with laughter as 21 of our members exchanged fat quarters in the 2019 Set it Free Challenge.
Each member brought a fabric that they were ready to let go of and placed it in a bag on the table. We drew numbers and each member had the choice of picking an unknown fabric from the table or stealing one that someone else had selected.
In the end, everyone went home with one new piece of fabric - or more - to make into a modern quilt of any size by our June meeting. We encourage everyone to post progress pictures on Instagram or Facebook using the #SetitFreeChallenge hashtag.
Take a look at the fabrics everyone got:
ChattMQG Represents at QuiltCon 2019!
It was great to see our ChattMQG charity quilt hanging at QuiltCon in Nashville. It's now back at the Tennessee State Museum, where it will hang in the Between the Layers exhibition through July 7. Past President Kelly Spell got to share the story of its creation during an interview on Nashville's News Channel 5, click here to watch.
Three of our members also had quilts in the show! Kelly's "Felicitous Pickle" quilt, which she made during last year's Cut It Up Challenge using an orphan block she inherited from Ann Hurley, was featured in the Negative Space category. It was also published in the 2019 issue of QuiltCon Magazine, and it will travel the world over the next year as part of The MQG's Best of QuiltCon traveling exhibit.
Audrey Workman's "Tiny House Jamboree" hung in the Small Quilts category. She made it for a Curated Quilts mini quilt challenge, and it was featured in the Log Cabin issue of that magazine.
Finally, Jean Larson's "Seaweed" quilt was in the show's Piecing category. Congratulations, ladies!
ChattMQG Mourns Passing of Gerry Haywood
We are heartsick to share that Gerry Haywood passed away Tuesday, February 26. We will always remember Gerry for her talent, tireless energy, charitable and creative spirit. Read her member profile. Her family shared this online memorial. RIP, Gerry.
March Handcrafted Happy Hour
We had so much fun downtown at the Frothy Monkey, we're heading back there for Handcrafted Happy Hour on Tuesday, March 12, from 4-7 p.m.
Once again HHH will be co-hosted by the Association for Visual Arts. Members are encouraged to bring hand work and friends!
Stitches in Time Recap
The annual Stitches in Time Quilt Show ran through February 28 at the Museum Center at 5ive Points in Cleveland, TN. Some of our guild and member quilts were displayed at the museum February 19-28, as part of a special exhibition outside the juried show.
Show and Tell
Martha Steele shared an amazing story about her "windswept" improv log cabin quilt. She made it a few years back and it just hung in the Stitches in Time exhibit.
Martha's quilt was swept away in the devastating tornado that struck Ringgold in 2011. An electrical worker found it laying in a ditch during the clean up effort. Because her name was on the back, he was able to track her down at the local quilt shop. Incredibly, it only had minor damage. It's one of the best reasons we've ever heard for labeling your quilts! Read more about the storm and see Martha here.
And look at some of the fun makes shared by our members in our February Show and Tell: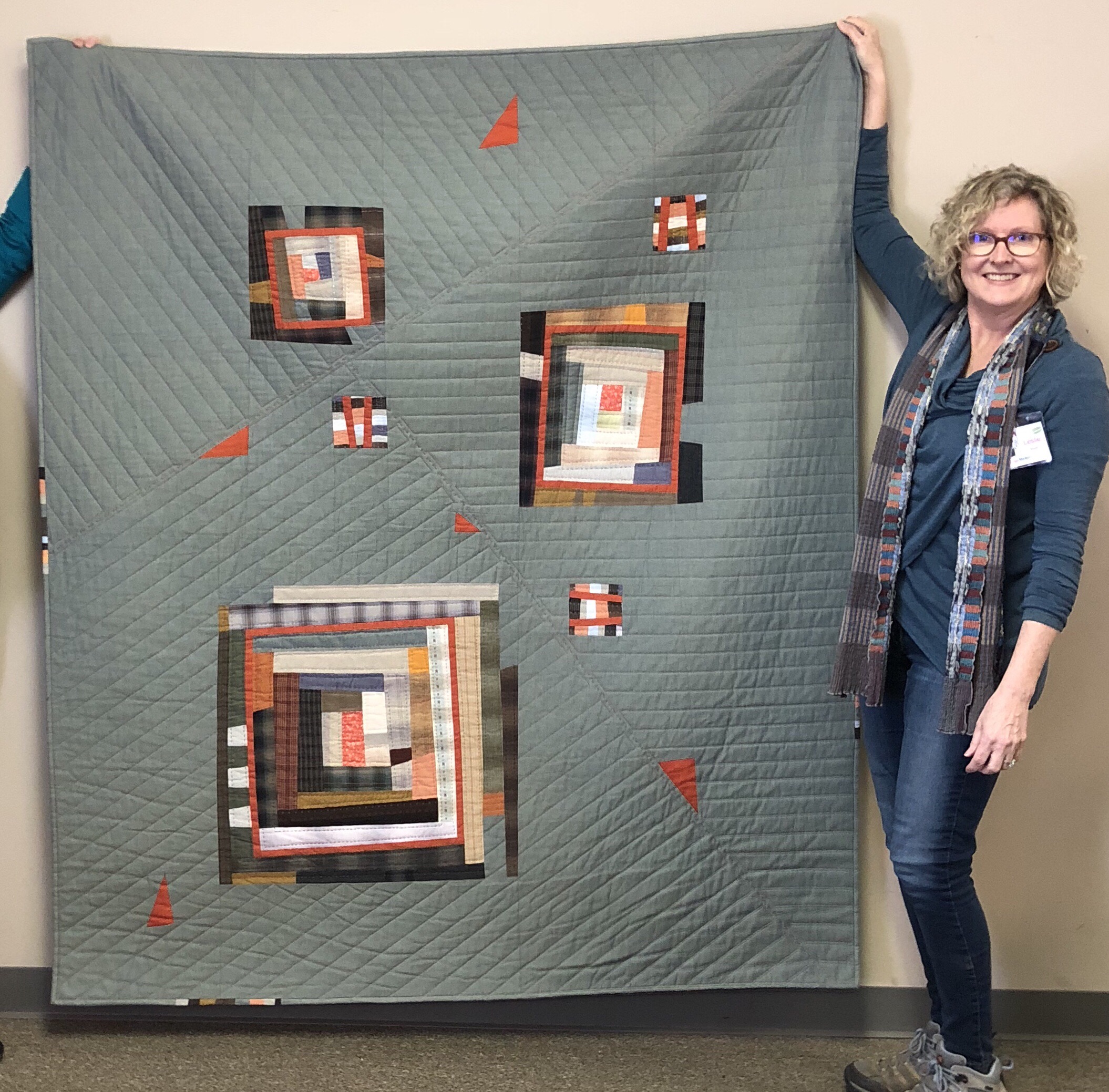 Next Meeting
Join us for our next meeting, Saturday, March 9, 2019 at 10 a.m. Guest speaker Durinda Cheek will return to talk about color theory! As always, guests are welcome to attend our meeting and learn more about modern quilting. Check out the website for information about upcoming programs and membership. You can also find us on Instagram @ChattMQG
We'll see you March 9!